THE MUSICAL HERITAGE SOCIETY
The MHS Review 236 Vol. 3, No. 2 March 5, 1979
click on the cover to return to

the table of contents
"Some rattling good piano passages"? That is the crux of Mendelssohn's piano music."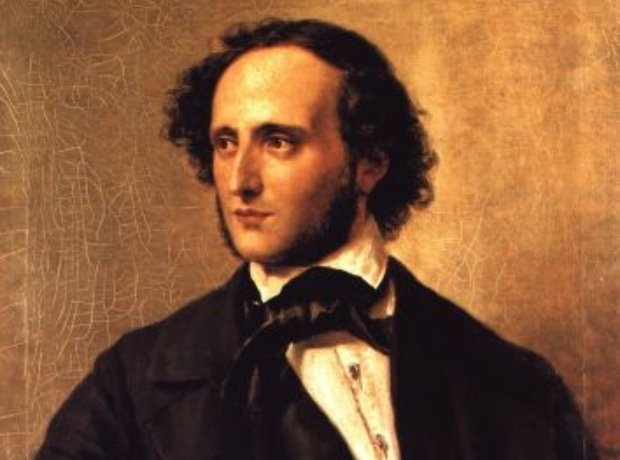 A look at the solo piano music of Felix Mendelssohn, who unfortunately never left the 1820s behind him.
Felix Mendelssohn composed just over 100 works for the piano. Half of them are the short, lyric Songs without Words, while the remainder include three sonatas, three sets of variations, a half dozen plus preludes and fugues, and a batch of other, brief compositions, mostly caprices. Yet, except for a handful of works--the masterly Variations serieuses Op. 54, the ebullient Rondo capriccioso Op. 14 and a few Songs without Words--Mendelssohn's pieces are seldom heard today. The question is why has Mendelssohn, whose orchestral and chamber works are standards in the concert repertory, seemed to have fallen out of favor with pianists? And the answer, complex in some ways, is to be found in the composer himself and the artistic climate of his time.
On paper Mendelssohn's birth date, 1809, makes him virtually an exact contemporary of Chopin, Schumann (both born in 1810), and Liszt (born 1811), but dates, ignoring development and temperament, can be misleading. Felix was an enormously gifted youngster who was lucky enough to have every material advantage needed to foster his genius. He matured quite early and by the time he reached his twenties, just when the others were beginning to consolidate their individual musical idioms, his was already formed; for better or worse, he rarely went beyond it in later life. Mendelssohn's pianistic idiom basically belongs to the generation before his contemporaries, the generation of Johann Nepomuk Hummel (1778-1832), Carl Maria von Weber (1786- 1826) and Ignaz Moscheles (1794-1870). In other words, while Chopin, Schumann and Liszt went on to create the mature pianistic Romanticism of the 1830's and 1840's, Mendelssohn remained in the 1820s, a transitional period that has generally been neglected in piano literature. (Historically, Beethoven's late works of the 1820's had little appreciable influence; they were little known and less played during the time, although Mendelssohn did write two sonatas in his mid-teens that took Beethoven as their model.)
NOT BAD, NOT BAD: As quite comprehensively discussed in this essay and DMG's essay "A Sigh of Relief", Mendelssohn's mark on the world of classical music did NOT come through his writing for solo piano (his piano concertos have a good deal more respect). Nonetheless, a probing mind would not be wasted taking a scroll through the works of Mendelssohn. The essay here will give you a sense of where to go to increase your knowledge of these works. We've sprinkled links throughout so you can click through and find out even more.
WHAT TO LISTEN TO: The great pianists of the late 20th century gave Mendelssohn's works a pass - you won't find much if your tastes run from Rubinstein to Horowitz to Pollini. So listening to Mendelssohn's piano works also offers the additional benefit of getting a chance to listen to some other pianists who were drawn to these works - and who probably got crowded out of Beethoven and Schubert piano sonata recordings.
SONGS WITHOUT WORDS: As the essay states, almost half of Mendelssohn's work for solo piano is categorized as "Songs Without Words". This lovely work doesn't get recorded much as a complete set but Daniel Barenboim gave it a try and it is one of his most lauded recordings. Played with "affectionate finesse", says the Penguin Guide.
SONATAS: Christian Ivaldi's version is covered elsewhere, we'll give you a few options. Frederic Chiu's recordings for Harmonia Mundi are a fine choice.
A SAMPLER: Benjamin Frith's Naxos recordings have gotten excellent reviews, and are well worth a stop and listen.
ALMOST EQUAL TIME: If your tastes prefer the name brands, we gave Barenboim his spotlight. But Murray Perahia has devoted his talents - which are ideally suited to Mendelssohn's lyric nature - to performing Mendelssohn. His early recordings of solo works seem as yet unissued, but this recording devoted to Songs Without Words by a range of composers is a lovely moment in time.
For the completist, here's another set of the complete works of Mendelssohn for piano.
Mendelssohn's piano music sounds a little old fashioned for its period, and this is one characteristic of his innate musical conserva­tism that led him to be called the "Romantic Classicist.'' His was a neat, precise genius, imbued with the classic virtues of order and balance, and suffused with a civilized, subtle type of emotion. This genius, to paraphrase Mendelssohn scholar Eric Werner, found its way into three broad areas of piano literature: the learned, contrapuntal style; the brilliant virtuoso manner of the fashionable concert hall, and a more intimate or "domestic" idiom that reflected the vast amount of amateur music making in his day.
Mendelssohn's contrapuntal works result from his early training by Carl Friedrich Zeller (1758-1832). Zelter--recalled mainly for the fact that Goethe preferred him as a songwriter over Beethoven and Schubert-­personified the traditionalism and restraint of North German music. A strict, exacting teacher, he instilled a life-long love and veneration of "old father Bach" in young Felix, who was all of 12 years old when he mastered the Well-Tempered Clavier. Felix was soon writing fugues of his own. Some appear in his early Seven Characteristic Pieces Op. 7, but his main efforts in learned style are found in the collection of Six Preludes and Fugues Op. 35. Significantly, the fugue was composed first in each case while the prelude was added as much as five or ten years later. Although, in retrospect, Mendelssohn was unduly pessimistic about these polished appealing works, he had no illusions as to how they would fare in the frivolous, light-weight musicaJ climate of the 1830's. Writing to his good friend Ferdinand Hiller in January 1837, he remarks: "I have sent my six Preludes and Fugues to the printer today; they will not be much played I fear ... The Organ Fugues [Op. 37] are to be printed next month; me voila perruque! (me, in a powdered wig!) I wish to goodness that some rattling good piano passages would come into my head to do away with the bad impression.
"Some rattling good piano passages"? That is the crux of Mendelssohn's piano music. He was never quite comfortable writing for the piano alone, and he knew it. Again. writing to Hiller. he confessed, "Piano pieces. to be sure I do not write with the greatest enjoyment, or perhaps with much success. but occasionally I require something new to play ... '' His brilliant virtuoso works. notably the neglected Capriccio in F-sharp minor Op. 5 or the Fantasy (Scotch Sonata) Op. 28. have a naivete that many pianists find too pallid for their tastes. To understand these composi­tions one must look to the works of Hummel, Weber and Moscheles. all of whom were leading pianists and composers of Mendel­ssohn's youth. Historical opinion, however, has pushed them aside in favor of late Beethoven when, in fact. the monumental sonorities Beethoven created in his last sonatas--flailing away at hopelessly out-of­tune pianos--existed only in Beethoven's imagination. Historical reality for the piano in the 1820's meant light. brilliant works, shallow dip keyboards. and dry, limited sonorities. Piano figuration meant rapid scales. feathery octaves. quick-flying simple arpeggios (especially the worked-to-death diminished sevenths). and repeated chords in the accompaniment--not only to mark the rhythm but to maintain the sound. Weber's great Konzertstuck, which is sometimes played today, summarizes this generation of pianists, as does Mendelssohn's Concerto in G minor.
Within this brilliant idiom, however, Mendelssohn did create a pianistic niche all his own--the airy Elfenspiel (elf's play) style. No composer has ever committed scherzos and caprices of such gossamer scintillating lightness to paper. Elf's play marks the popular Rondo capriccio Op. 14 that Mendelssohn wrote when he was about 15 years old. It also characterizes the once popular Scherzo "Little Trumpet Piece," from the Three Fantasies or Caprices Op. 16. Less known perhaps are the "Leicht und luftig" from the Seven Characteristic Pieces Op. 7, the will-o-the-wisp Scherzo in B minor and the Scherzo a capriccio in F-sharp minor which the great 19-century virtuoso Anton Rubinstein considered Mendelssohn's most valuable and characteristic piece for piano. Mendelssohn also assumed a role in the fashion for short, lyric pieces meant for amateurs of limited skill. Chopin wrote his nocturnes and preludes. Schumann his sets of genre pieces--Kinderscenen, Novelletten. etc. --and Mendelssohn his Songs without Words. His original title. "Melodies for the Piano.·' is perhaps more accurate since it does not imply any singing, and the group does include purely pianistic works as well as vocal solos. duos and choral melodies. In any case. the Songs are brief melodic works, mostly in simple ABA form. There are 48 of them gathered into eight books. and they were a major factor in shaping their composer's enormous popularity, especially in England. Generally speaking, the earliest books are the freshest and the best. After composing them. Mendelssohn's inspiration began to flag and he seemed to be writing mainly to satisfy a popular market that always wanted something "new" to play. Some of the individual pieces like the "Spring Song" or the "Spinning Song" have become quite famous. Taken as a whole, however. the Songs are a fitting manifesta­tion of Mendelssohn's genius; balanced works, charming melodies with discreetly apt accompaniments--works that rarely overstep the limits of polite society.
Charles Suttoni is a musicologist and music critic, and has written articles for Musical America. the Journal of the American Liszt Society, and other periodicals.